JEKKO MINICRANES SPX532 or SPX650: A DIFFICULT CHOICE.
March 22, 2022
The most powerful minicrane to pass through an standard door vs the 5tn, 24m outreach and only 1m width model: do not miss any detail.
Both the Jekko SPX532 and the SPX650 minicranes are having a great acceptance in the market. Also the two models offer a diesel or electric engine and the pick & carry option. 
The SPX532 minicrane has the incredible advantage of going through an standard door, it offers many solutions to the most demanding maniouvers in reduced spaces. In addition, it has spider stabilizers, an exellent option for those situations where the stabilization is complicated. 
The minicrane Jekko SPX650 has had also success in the market with its lithium batteries version. Without any doubt its reduced measures (4460x980x2020mm), its maximum load capacity of 5.000kg. and its 23,56m outreach, make it a powerful and compact perfect minicrane. The battery use has multiple advantages and the market is beggining to value all them. 
These diesel and plug in versions are perfect minicranes options for working in interior and reduced areas thanks to the electric package with 0 emissions and no noise. In addition, these minicranes can work with the JVM800 grass manipulator, another great advantage for the sector.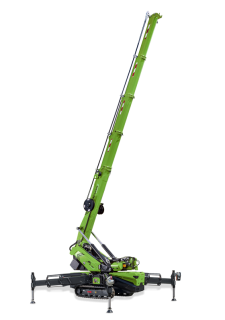 The SPX532 offers a load capacity of 3.2ton., a working height of 17.3m. and an outreach of 14.8m., whereas the SPX650 has a maximum load capacity of 5ton and an outreach of 23.56m.
            SPX532                                                              SPX650
   Tel: 93 849 83 88  //  info@transgruas.com